St. Michael's Parish Day School
At St. Michael's Parish Day School, children are loved and valued. In our warm and creative environment, your child will grow spiritually in our regular chapel services designed for children, and creatively in the classroom, in our garden and on the playground, and through special events and field trips. He will learn to cooperate, solve problems, create, listen, and to respect others and respect differences. St. Michael's promotes the growth of the total individual by helping each child develop socially, cognitively, physically, and emotionally. Our child-centered program includes both teacher-directed and self-selected activities, quiet and active experiences, and the recognition that learning occurs in both formal and informal ways. Because young children learn best through active participation, teachers provide every child with many "hands-on" activities. The staff at St. Michael's works as a team to meet children's needs, with support from the church and its members, the St. Michael's Parish Day School Committee, parents, and the community.
At St. Michael's, your child will:
Work with small and large groups and alone

Play and work in centers

Sing and listen to music, stories, and poems

Be exposed to drama and the creation of stories

Share tools, games, materials, and experiences with his/her classmates

Participate in music and movement

Help plan his/her own experiences
Learn to listen to and follow directions

Help to keep his/her classroom in order

Build his/her self-esteem and social skills

Attend chapel regularly

Use various art supplies, such as paint, crayons, chalk, paper, material scraps, scissors, and glue as a form of self-expression

Explore math and science concepts
Day School Open House

The Day School will host an Open House for parents of prospective Pre-K (4-year-old) and Kindergarten (5-year-old) children on Wednesday, Jan. 9, at 7:30 p.m. in the church's Convocation Room. Parents will meet the teachers, tour the classrooms and hear a short presentation about our Pre-K and Kindergarten curriculum.
2019-20 Registration
St. Michael's Parish Day School offers alf-day classes for ages 6 months-5 years.

The Day School is pleased to announce the addition of a Kindergarten (5 year old) class for the 2019-20 school year. The class meets from 9:15 a.m.-1:15 p.m. Monday through Friday, and the curriculum will be based on kindergarten standards set forth by the NC Department of Public Instruction. All other Day School classes (ages 6 month-Pre-K) will meet from 9:15 a.m.-12:45 p.m. For more information or to schedule a tour, please contact Mandy Annunziata, Parish Day School director.
2019-20 Registration Information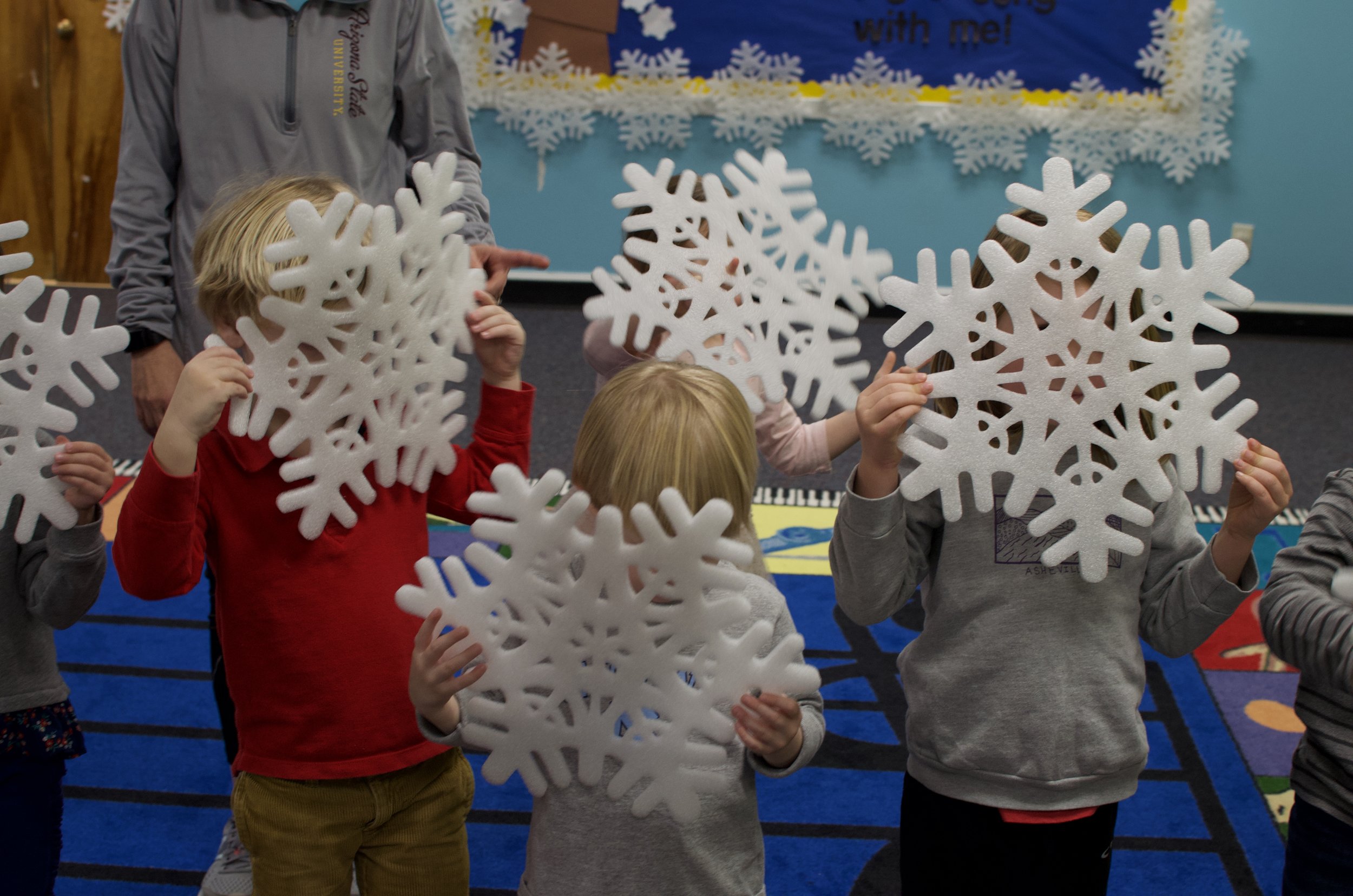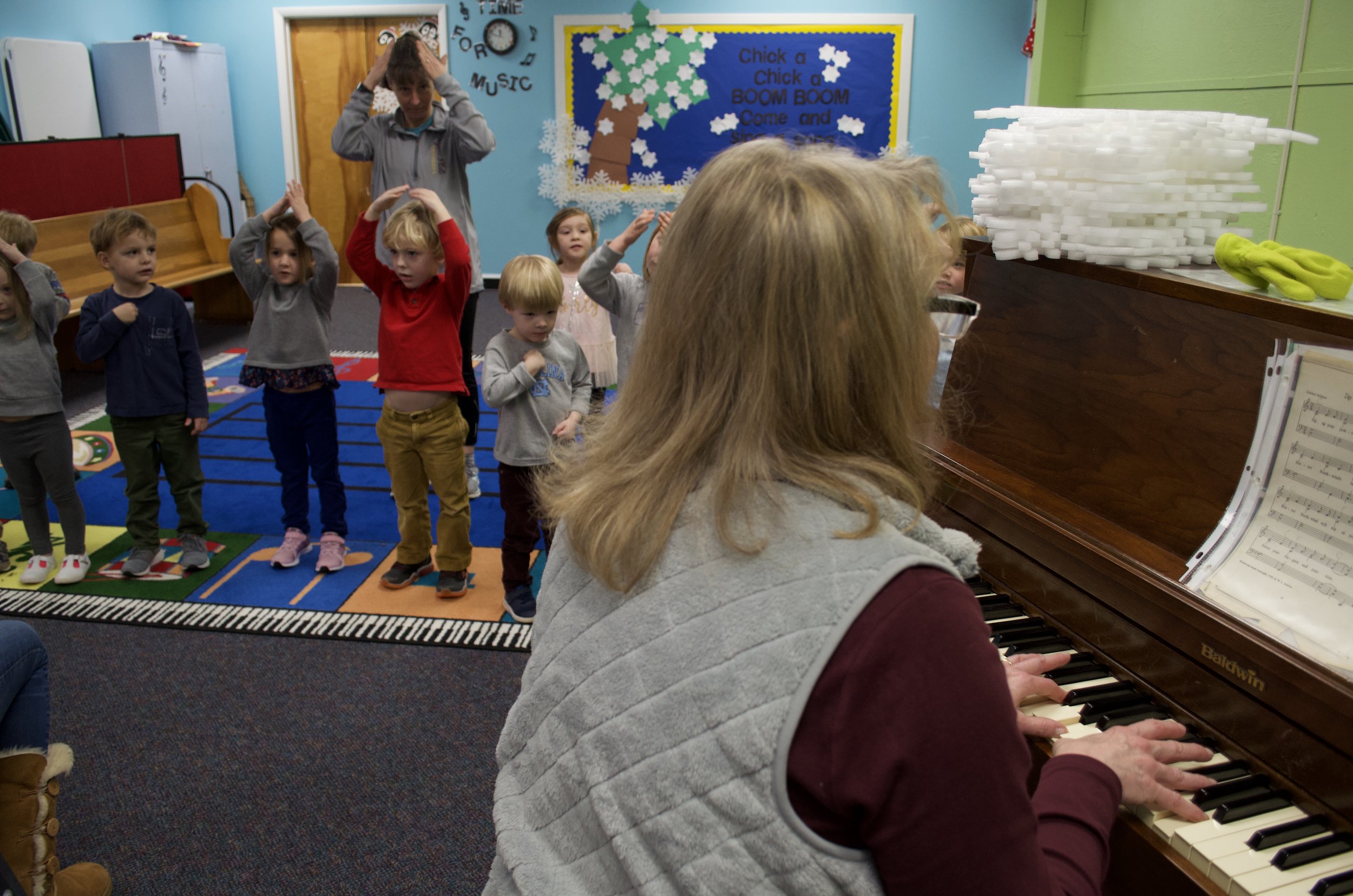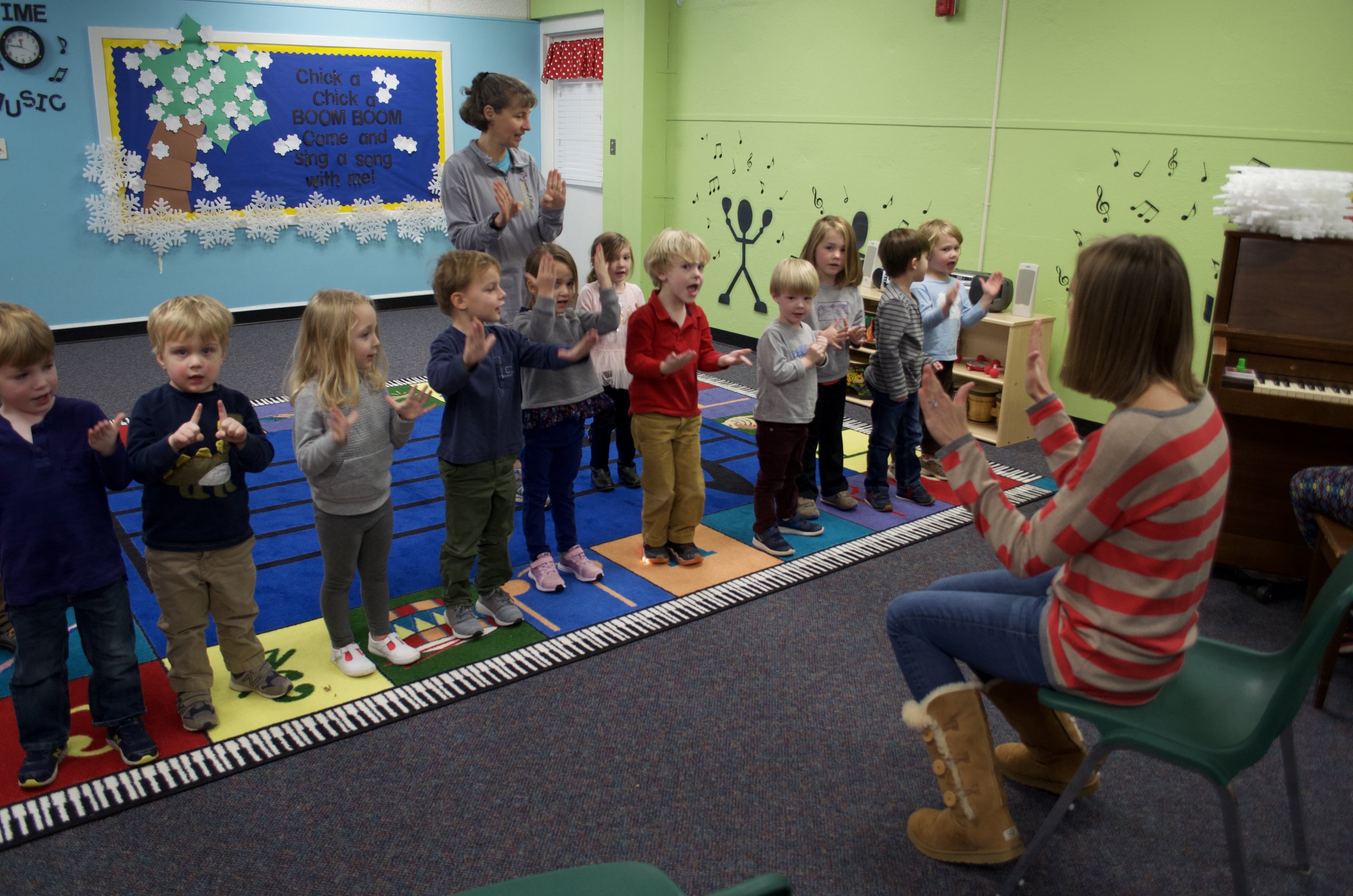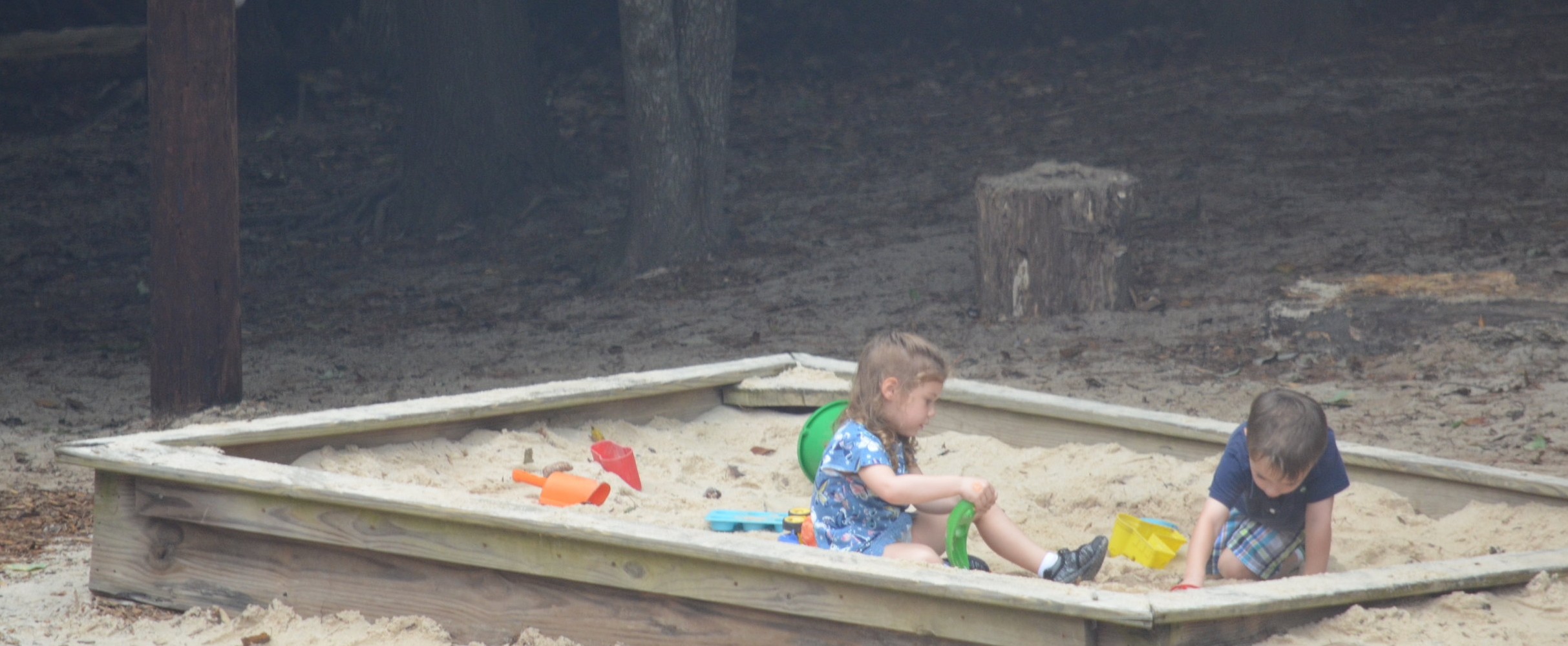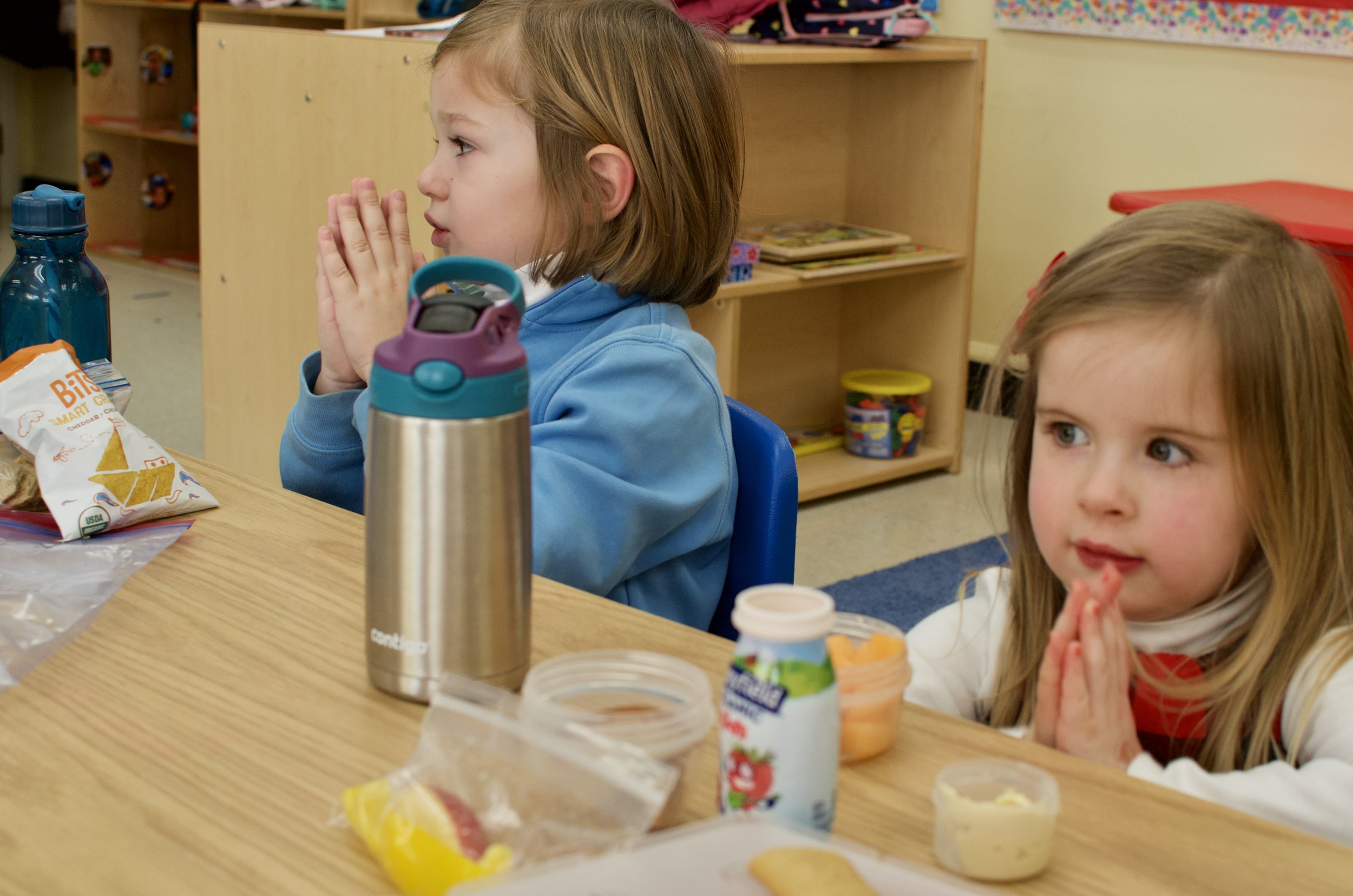 Staff Longevity
Lead teachers have been working at the Day School an average of 11 years and have an average of 16 years of experience teaching preschool.
Staff Training
All teachers have college degrees and are required to participate in 5-10 hours of educational workshop training each school year.
Support
Our active Parent Council provides support to the director and teachers, sponsors special events throughout the year, and raises funds for special purchases for the school. Membership is open to all parents of St. Michael's Parish Day School students.
Curriculum
Our curriculum centers around a learning-through-play concept. Our teachers incorporate developmentally-appropriate resources in classrooms, including LetterLand, S.T.E.M. projects and Handwriting Without Tears. Day School teachers practice a Conscious Discipline-based approach when working with students to encourage confidence, independence and respect for oneself and others.
Chapel and Music/Movement Programs
We are one of the only preschools in our area with a chapel designed specifically for children, and we have a music/movement teacher on staff.
Relationships
Small class sizes and low teacher-student ratios give teachers plenty of time to work one-on-one or in small groups with children. Teachers share information with families through home visits, parent conferences, email, newsletters, and classroom websites.
Leadership
Our director has a master's degree in Family and Child Development and is certified as a Triple P provider. (Positive Parenting Program)
We also provide Triple P services for Day School parents who have questions about common childhood challenging behaviors. For more information about Triple P, click here.
Mandy Annunziata
Director
Mandy grew up in Danville, Va. She received a B.A. in Psychology and a Certificate in Human Development from Duke University and a M.S. in Family and Child Development from Auburn University. She also is certified as a Triple P (Positive Parenting Program) Level 2 provider. She and her husband, Gene, have lived in Apex since 1997. This is her 22nd year at St. Michael's as the preschool director. She and Gene have two boys, Matthew (18) and Jacob (15). Mandy loves reading and attending her sons' sporting events. They cheer for the Duke Blue Devils and Carolina Hurricanes!
Cason Maddison
Assistant Director
Cason grew up in eastern North Carolina and now calls Raleigh home. After graduating from the University of North Carolina at Chapel Hill with a BSBA, she began her career as an investment banking analyst in Greenwich, Connecticut. In 2005, Cason moved back to North Carolina and assumed a financial advisory position with Edward Jones Investments. She is a member of Christ Church, where she recently served as assistant treasurer, then treasurer for the ECW. Cason and her husband John (a fellow Tar Heel and former Day School student) married in 2007. They have three children: Anna Prather (8), Bosley (6) and Margaret, (4).
Day School Office Hours 9am - 2pm weekdays | Phone 919-782-6430